Morning Star Appaloosa


Morning Star Appaloosas




Owners:

Norman and Suzanne Kaser (Seth & Sam too!!)

3985 Victor Point Rd. SE

Sublimity, Oregon 97385

503-873-8249



JBCJNakota Warrior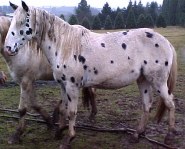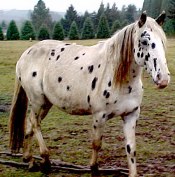 1995 Black Leopard Stallion

WingedTobyWarrior X Pratts Gold Queen

Nakota's is a grandson to both Easter Pete and Dun Roven Chelsea's Image.

He carries the Kaniksus and the Toby bloodlines. This guy is gentle, calm,

and quiet. He's a quick learner and has been used on trails.

He has the Appaloosa "do it all" attitude and is a gentleman in hand and under

saddle. Nakota may begin his first breeding season in 2001. This colt should

be a high percentage leopard producer. He will stand to only a few approved

mares.

Please contact us for breeding fees.



Click here

to view our Mares and see horses for sale.

This site is currently under construction. Please check back often to

view more horse photos from Morning Star Appaloosa. Thanks for visiting.

Back to DreamCatcher Appaloosa

page