Mares, pg.2

The Mares of DreamCatcher Appaloosa




Yodies Miss Toby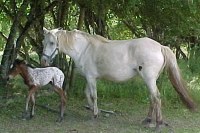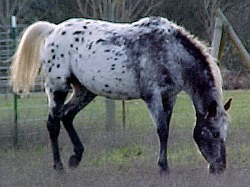 Toby Blue Yodeler X Polkadott Diamond

Ms. Toby traces eight times to the reference sire Toby l.

To date, she is producing 100 % color. She is currently in foal to our stallion Tobys Lucky Moonfor a 2002 foal which will be offered FOR SALE !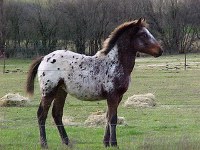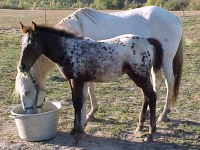 2000 Bay blanketed, spotted filly

Tobys Peter Bilt X Yodies Miss Toby

You can view both her parents on this site.

Future plans for her include becoming a saddle horse, some show

experience and eventually she will join our breeding program.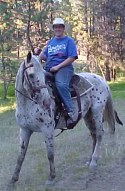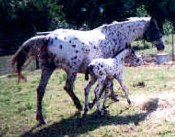 1987 Bi-colored Leopard Mare

Pepper Travis X Flint Creek Plaudett

"Pepper" as we call her, is a wonderful mare who is gentle,

alert & willing. Shes a great babysitter as well as a wonderful

therapeutic riding teacher.



This mare is out of Plaudits Mesquite, the mare shown above.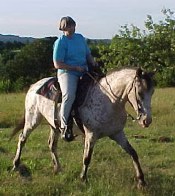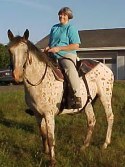 1996 Bay near Leopard Mare

Nootka's Red Cloud X Plaudits Mesquite

This mare has the appaloosa disposition and willingness we shout about!!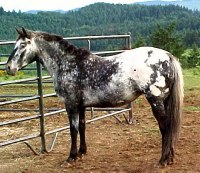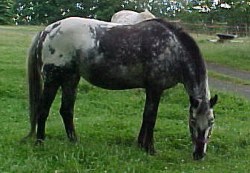 1991 Black blanketed Mare
MoneyCreeks Ledgerock X Tobys Karma Kate
Jazz is a true black & white. She is extreamly athletic and gentle.
Can you spot the "Lion Head" on her hip?
Jasmine is a working ranch horse,showing natural cow sense.
She is a wonderful saddle & pack horse, exhibiting sure footedness
in any terrain.
foal which will be offered for sale.
Tobys Krystal Moon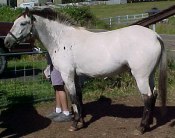 1996 Bay few spot leopard mare.
Tobys Lucky Moon X Kaniksus Kocina
PEDIGREE
Krystal is currently spending time under saddle and proving
to be a good working ranch horse.
She is a very quiet, willing, and patient mare.
JBCJ Tobys Moonledge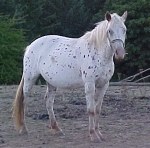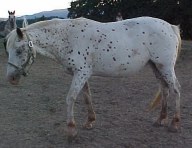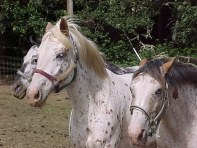 1995 Leopard Mare
Tobys Lucky Moon X Eagles Sophie Sis
PEDIGREE
You have got to see this mares lineage to believe it.
Moonledge is a great-granddaughter to the famous reference sires:
Toby I on her top side and to
Money Creeks Rockledge on both her top and bottom side.
Her great , great grandsires are Freels Chico and Storm Cloud F.
Moonledge has beautiful movement, a companion disposition and that willing
Appaloosa" I can do it all" attitude.


Please click on any of the pictures below to navigate our site.




Prince Solid Joker
111856
Kaniksus Spot
28085
Sutters Sass
67468
Kaniksus Katracks
441853
Kaniksus Knobby 151595
Kaniksus Tobyaina
T218268
Titania F-604
Tokeri Cloud Dancer
515789
Fancy Tom 123871
Tokatee George
233432 Miss Tokatee 76954
CLM Tokeri Cricket
395808 Salems Polar Bear 4183
Luis Creek Keri
T108987
Salems Zsa Zsa
Tokeri Blue Tango
ApHC # 563215 Old Blue
Toby I F-203
Trixie
Toby II F-113
Dappal
Genesee Chief F-1384
Patches F-77
Patchy F-416
Lola F-462
Marjori
Black Peppers Genesee Chief
53127 Rusty King
Stewarts Shiek F-385
Trixie
Black Pepper C. F-3898
Lylie F-3897
Tobys Blue Moon
N446581 Knobby
Little Dan
Spot
Old Blue
Appy Stud
Lucy
Appy Mare
Toby I F-203
Appaloosa Stud
Trixie
Appaloosa Mare
Tobys Chico
74404
Stubby F-920
Freels Chico F-715
Macey
Chicos Babe
7809 Mollie